Jeep Cherokee ZJ, WK Rugged Ridge heavy duty front floor liners - SOLD!
I only have these 2 pairs of Jeep floor mats. One pair for the Jeep Grand Cherokee ZJ and one pair for the Jeep Grand Cherokee WK
These are left overs from the off road store I use to own. - SOLD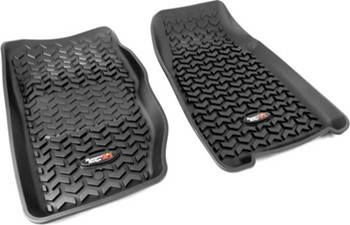 The only floor liner with patent pending Deep Tread technology! These floor liners are a totally new concept that combines all the best features of precision engineering using state of the art a deep ribbed floor mat and the old style liners. Precision engineering using state of the art technology ensures an exact fit to the shape and contour of your vehicle's floor. The deeply molded Chevron-shape tread pattern channels dirt, mud and snow away from the driver to keep shoes and pant legs clean, containing the movement and sloshing around of any trapped water. The high perimeter wall offers a large footprint and maximum interior protection and containment. Constructed of all weather injected-molded durable OE-quality Thermo- plastic Elastomer (TPE). Raised nibs on the bottom provides maximum retention and keeps the liner in place. The self-sealing floor hook attachment feature (where applicable) helps to prevent dirt and moisture from getting through. Easy to remove and clean. Simply hose them off and go!!! The mat actually reseals itself around the hook!!!

Use the email link above to contact me or call: (509) 214-2795 and leave a message with your phone number and what you are calling about.

SOLD - I can ship this for actual shipping costs (call me for shipping costs) or deliver between Kittitas and Cashmere, WA on certain days of the week.